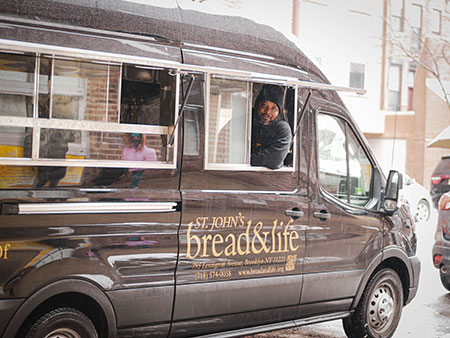 Our NEW Mobile Soup Kitchen (MSK) is a customized, energy-efficient food truck serving nutritious hot meals and providing outreach services 4 days a week to New York City's most impoverished communities in Williamsburg, Coney Island, Brownsville, East New York, Woodside, Red Hook, and Bushwick.
The MSK is the mobile extension of St John's Bread & Life, reaching out to families and individuals who do not have easy access to food and other social services. Last year, when residents of the Red Hook housing projects found themselves without cooking gas, we altered our MSK route to deliver hot meals to those in need.
An MSK worker offers social service referrals and information to directly connect folks with assistance to housing, counseling, health, detoxification/rehabilitation programs, public benefits, tax preparation, job training, and immigration services.
*The MSK is dedicated in honor of the late Joe Martino, a long-time volunteer and supporter of Bread & Life and many other civic causes, who has left a legacy of compassion, love, and volunteerism of which we are forever grateful.
Current Schedule
Morning Schedule

| Monday | Tuesday | Wednesday | Thursday |
| --- | --- | --- | --- |
| 9:30am-10:00am at St. Gabriel Church, New Lots Ave, East New York | 9:30am-10:00am at Hart Park 65-01 37th Ave., Woodside, Queens | 9:30am-10:00am at Williamsburg Public Library, 240 Division Ave. (between Marcy and Division), Williamsburg | 10:00am-10:30am in Coney Island at West 21st Street and Mermaid Avenue |
Afternoon Schedule

| Monday | Tuesday | Wednesday | Thursday |
| --- | --- | --- | --- |
| 12:30pm-1:00pm at Maria Hernandez Park, Knickerbocker Ave. (between Starr and Suydam), Bushwick | 12:30pm-1:00pm at Visitation Church, 98 Richards St, Red Hook | 12:30pm-1:00pm at Wayside Baptist Church, 1746 Broadway, East New York | 1:00pm-1:30pm at Holy House of Prayer, 1768 St. John's Place and Eastern Parkway, Brownsville |