Our Mission
St. John's Bread and Life's mission is to respect the dignity and rights of all persons by ensuring access to healthy, nutritious food and comprehensive human services resulting in self-sufficiency and stability.
History
In 1982, St. John's Bread and Life was founded to address the needs of individuals and families living in the Bedford Stuyvesant community who faced multiple challenges. Originally housed in the basement of St. John the Baptist church, the agency moved to its current location in 2008. The state of the art building provides a warm and welcoming environment for all guests providing a wide array of comprehensive services, easy access and helping individuals and families move from crisis situations to greater permanency.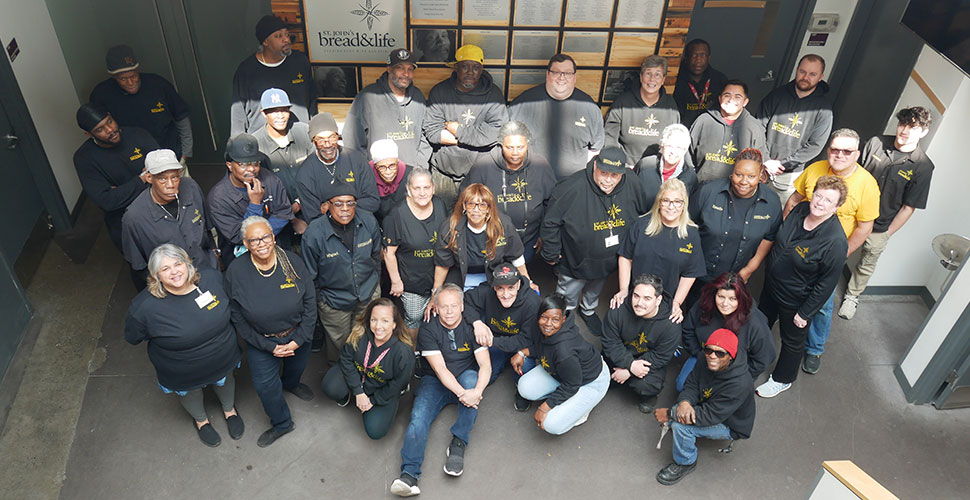 About Us
Food insecurity is a serious issue in Brooklyn and Queens, NY, affecting a significant portion of the population. In 2022, it has been reported that 1 in 4 Brooklyn residents faced food insecurity, which means they lacked reliable access to a sufficient quantity of affordable, nutritious food.
Food insecurity has serious health consequences, particularly for vulnerable populations such as children, the elderly, and those with chronic health conditions. St. John's Bread and Life plays a critical role in addressing the hunger and social service needs of this growing population. We provide quality hot meals and distribute fresh and nutritious produce, dairy, meats and pantry staples to individuals and families through our Food Pantry, Grab & Go Meals, Mobile Soup Kitchen, and Mobile Market programs. Additionally, our caring and compassionate case management staff builds relationships with those we serve, learning about their individual or family needs and seeking to empower and support them in their journey towards self-sufficiency and independence.
2022 marked the 40th Anniversary of St. John's Bread & Life. Over the past 40 years, we have served over 20 million meals to our neighbors in need across Brooklyn and Queens. We are thankful for the wisdom and foresight of the Daughters of Charity, the Vincentians, and the parishioners of St. John the Baptist — the women and men who set Bread & Life on the course to become one of the largest emergency food providers in New York City.